Private Label Cutting Board Wax
our cutting board wax, your brand
Let Old Factory help you to create your own private label cutting board wax to sell along side your wood cutting boards, butcher blocks, handmade wood utensils, salad bowls, unfinished countertops and more!  Are you a retailer of fine kitchen products or food? Our private label cutting board wax will sell like crazy in your retail space.  We offer two versions of our private label cutting board wax – a tin and a push up stick. Easy and convenient, this product will fly out the door.  Oil up the wood cutting boards you sell and they will fly out the door as well.
How do I take care of my wood cutting board?  When I used to sell cutting boards for a large cutting board manufacturer that I used to work for – this was the number one question I would be asked. Simple! I always replied, season your cutting board once a month, and dont put it in the dishwasher – the rest is easy.  Their next question, what do I season it with, and where do I get it? I would prefer not to use mineral oil. I heard this over, and over again – so finally I decided to create my own cutting board seasoning wax.  I used three simple ingredients, known for their long shelf life, and minimal aroma (just link mineral oil). The three ingredients: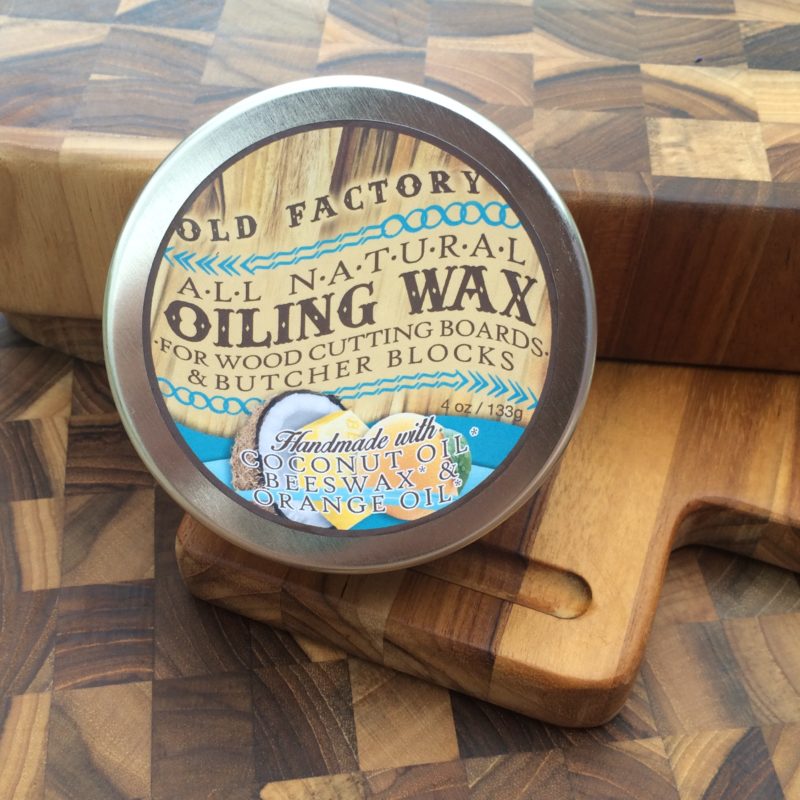 -pure beeswax – beeswax creates a natural protective seal over the wood, making your wood cutting boards super easy to clean, resistant to odors, staining, and knife marks.
-coconut oil – coconut oil moisturizes and conditions the wood, maintaining the natural oil content of the wood.  it also beautifully brings out the rich colors of the wood.
-orange essential oil – known to be a natural antibacterial, orange essential oil offers these properties as well as a light refreshing aroma.
Why doesnt your private label cutting board wax contain mineral oil? Mineral oil is a controversial ingredient. There are many questions as to the neutrality of this oil as it collects in your body.  I wanted to create something that I knew I, and my customers could trust and use monthly with no concern for our health.  Most waxes on the market today contain mineral oil, our product gives you an alternative option that modern organically minded consumers will appreciate.
Our product, your brand
Our private label cutting board wax services are easy to set up, and offer a low MOQ.  Either send us your logo, and we will design a simple label for you – or fill out this form to request our label templates so you can design your own.  Our high quality product is a proven seller, and will outsell all of your mineral oil products.