Old Factory handcrafted creations make for beautiful online and print material, would you like to feature Old Factory brands in your magazine or online publication?  Visit our contact page  to get in touch.
2017
The Connecticut Magazine –Bride Registry 2017 Best Gifts for Brides Old Factory
Handmade In Texas – Old Factory Soap is Olfactory

Texas Monthly Magazine – 50 Texas Made Gifts, Texas Made Gift Collection
2016
Go Texan! Magazine – Cover Image & Article Feature.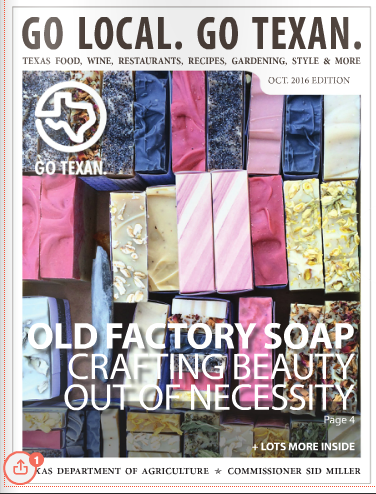 The Review Wire – Holiday Gift Guide, Gifts for Him
The Connecticut Magazine – Holiday Gift Guide Special Issue
FSM Media – Holiday Gift Guide 2016
2015 & Previous Years
The Kitchn – 10 Kitchen Stocking Stuffers Under $15
Popshop America – Best Soap & Botanicals in Texas
Kaisy Daisy's Corner – Growfoo.com & Old Factory Soap
A Treasury Of – Old Factory Soap Company